Our Bases
Cashmere Squeeze
A luxurious yarn with wonderful drape and shine. Knit socks on 1's or sweaters on 5's and shawls at a looser gauge yet, this is a wonderfully versatile yarn. Once you try Squeeze, you will never go back!
Fiber Content: 75% Superwash Merino, 15% Cashmere and 10% Silk
These are 4 oz skeins/ 400 yards
Gauge: 6 sts/in on 5's OR 8 sts/in on 1-2's
Sweater Squeeze
The big sister to Cashmere Squeeze! A dense, round, slinky, smooth, shiny and soft worsted weight yarn that is a dream to work with. Knit looser for great drape and swing, knit tighter to hold better shape in a sweater. Wonderful for accessories and next-to-the-skin wear!
70% superwashed Merino Wool, 20% Cashmere, and 10% Silk.
210 yards, 4 oz
gauge: 4.5 to 5.5 stitches/inch on size 5- 7's
I Heart BFL Sock
I Heart BFL Sock is a great and hearty staple fingering weight yarn that is heartier than merino and develops a shiny halo with wear.
Fiber Content: 80% Superwash Blue-Faced Leicester Wool, 20% Nylon
Put Up: 405 yards, fat 4-ounce skeins
Sock Gauge: 7 stitches per inch on size 0-1 needles.
Sweater Gauge: 5-6 stitches per inch on size 4 needles.
Wash instructions: Machine or hand wash gently, tumble dry low or dry flat.
Organic Merino Sock
The best in a sock yarn— nice firm twist, soft Merino, plus nylon for durability.
80% superwashed Organic Merino from happy South American Sheep, 20% nylon
420 yards/ 4 oz
Sock gauge: 7 sts/ inch on 1's
Sweater gauge: 6.5 sts/ inch on 4's
Machine wash gently, cool dryer, remove while still damp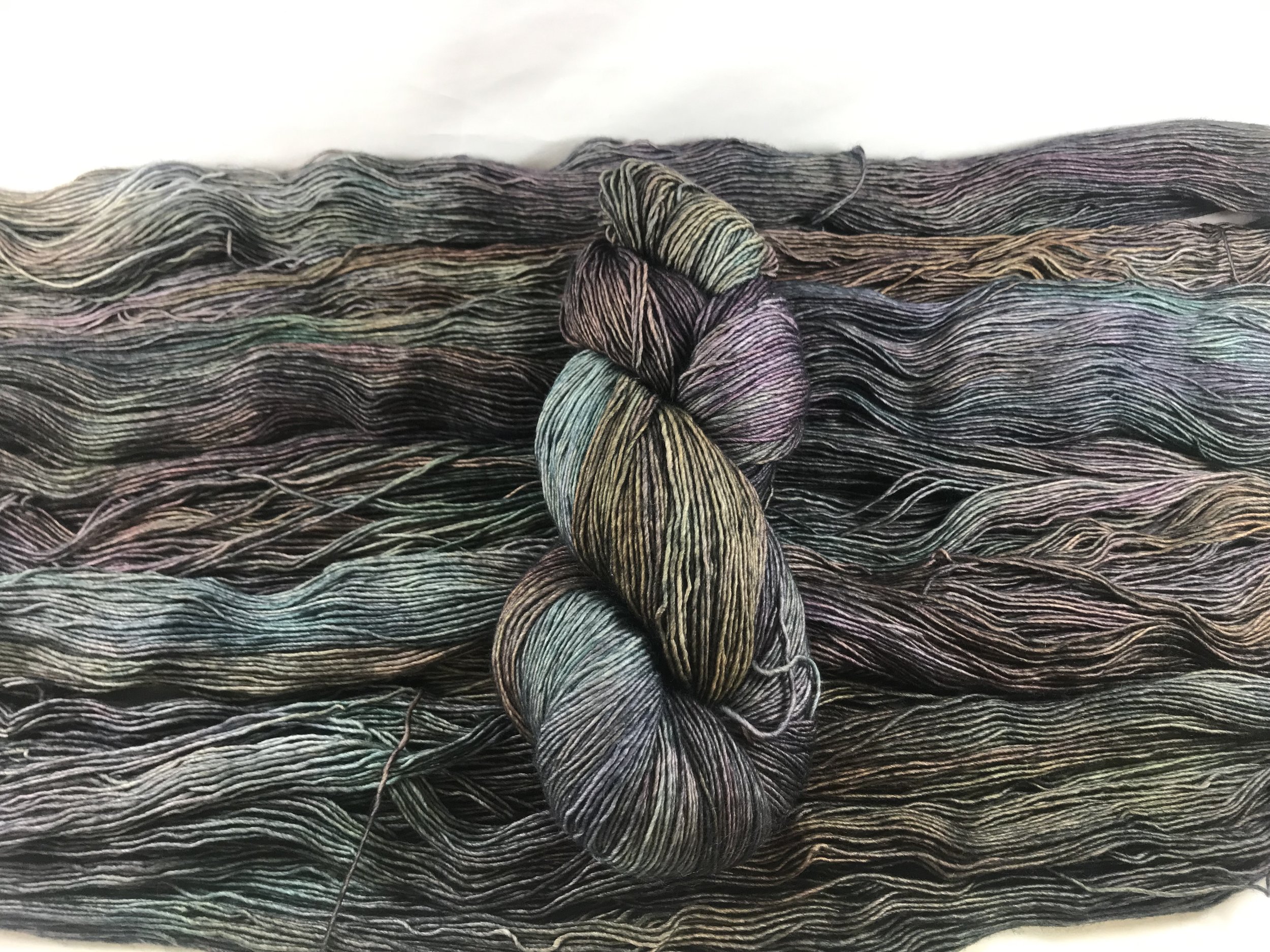 Merino Fine
The queen of shawls, a versatile fingering weight single ply. The colors are outstanding on this superwash yarn!
100% superwashed Merino
475 yards/ 4oz
gauge varies, great for shawls, accessories and lightweight projects.
Handwash gently, block to dry